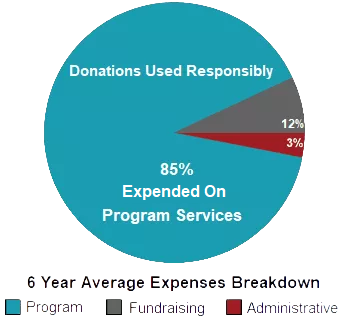 Who We Are: The Charity Cars Program
Established in 1996, The Original 1-800-Charity Cars, (Charity Cars, Inc. DBA: 1-800-Charity Cars, Free Charity Cars), is a 501(C) (3) non-profit organization, and the first charity of its kind in the nation. With its stated mission "To engage in activities that will uplift humanity", the organization's main focus is to provide free donated vehicles to assist struggling families in their transition from dependency to self-sufficiency. You can join us in our mission by donating a car using our online car donation form.
Why Donate Your Car To Our Charity
Considered the pioneers of the free car-ownership concept, the Original 1-800-Charity Cars operates the largest free non-profit car-donation / distribution program in the nation. The award-winning program has received an avalanche of local and national publicity being featured on shows such as Oprah, Montel, Good Morning America, Extreme Make Over: Home Edition, Bakery Boss, Kitchen Nightmares, Inside Edition, Two Guys Garage and CBS Morning News. Articles about this one-of-a-kind organization have appeared in the Non-Profit Times, The Chronicle Of Philanthropy, The Associated Press, People Magazine and a host of other publications across America. Among its many awards, the organization is honored to be a past winner of the prestigious Walt Disney World Outstanding Community Service Award.
Why Your Donations Are Needed
1-800-Charity Cars' experience with past recipients is that the receipt of a vehicle has a profound effect upon their outlook on life. They seem to experience a rebirth of hope and self-esteem leading to renewed energy and ambition to succeed. Many recipients have even expressed the sentiment that they have been given a second chance at life. Few programs can impact the quality of life of the disadvantaged as immediately and dramatically as 1-800-Charity Cars.
Struggling families nationwide apply for a free charity car at the organization's car distribution website FreeCharityCars.org. The website was designed to make the process of choosing who receives a free vehicle as fair as possible by providing a forum where individuals can engage the public and pro-actively pursue their dream of car-ownership. The website also provides the charity with the ability to quickly identify qualified recipients and to match each donated vehicle with each prospective applicant's specific need. Surprisingly, the unique website has organically morphed into an ever-expanding online community offering compassion and hope to struggling Americans.
Most Recent Financial Statements
Charity Cars Key Staff
Brian Menzies CEO
Rosemary Hill Comptroller
Charity Cars Board Members
Phillip Roe
Georgene Francis
George Dasaro
Barabara Dasaro
Thomas Willoughby
Drew Farmer
Brian Menzies
Under the Financial Accounting Standards Board (FASB) guidelines, we allocate a portion of our expenses to program services and fundraising. Due to our mission's nature, we provide accessible vehicles and vehicle support services to assist disadvantaged families in transition to self-sufficiency. In delivering this direct outreach that is the core tenet of our mission, our fundraising is dependent on car donations from community members. These outreach programs provide an opportunity to identify and offer individuals and families reliable transportation and raise awareness about the need for these programs.